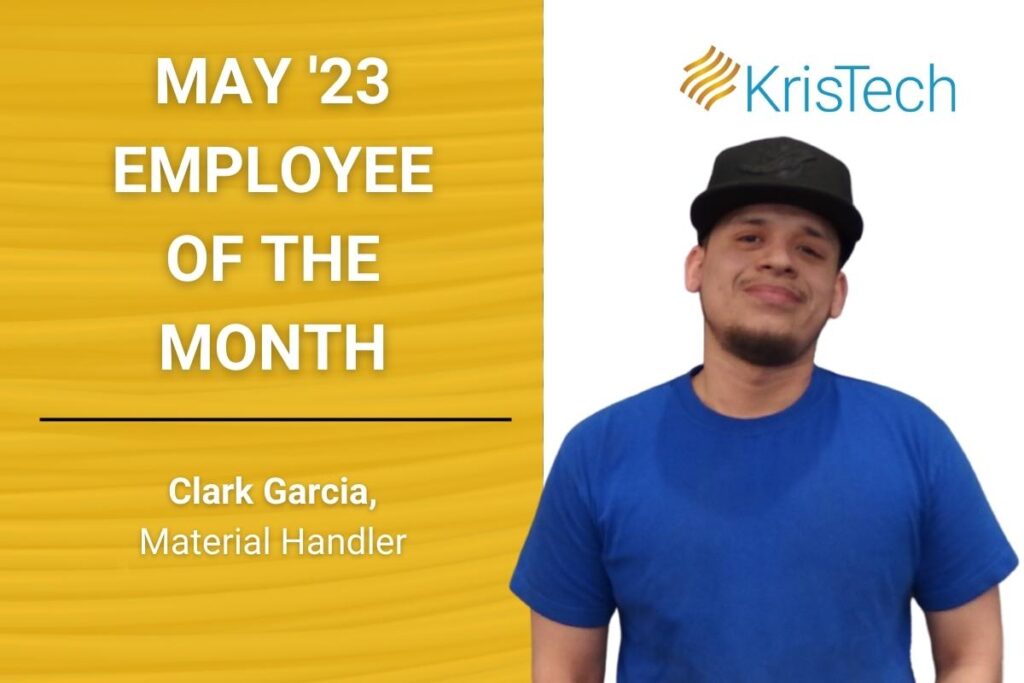 When we think about everything we love about superheroes, a few things immediately come to mind. 
They're strong and fast, and when all hope seems lost, they swoop in at the last second to save the day. But despite all their superhuman qualities, deep down inside, they're just like the rest of us. 
May's employee of the month not only does his regular job but routinely steps up to save the day – not just for his teammates but for the customers who rely on Kris-Tech to get it done. 
Is it a bird? Is it a plane? No, it's this month's winner, Clark Garcia! 
Achieving at Sonic Speed
It takes time to learn any new system, but Clark was immediately up to the challenge. 
"Clark was asked to learn the new scanning app to help get all our raw materials into the inventory app," Director of Operations Larry Reed, said. "He picked it up very quickly and even trained others to use the system. He works with the respool team, ensuring mill orders are wrapped properly and delivered on time. When Stan is out, Clark takes it upon himself to pick the box truck up from the mill to ensure materials needed for One-Pull and any hot orders are delivered on time." 
Learning an entirely new program is one thing but sharing that knowledge with others is a totally different task – a task Clark also does well. 
"The inventory app for raw materials was very new to the warehouse team, but Clark jumped in to learn about it," Reed explained. "He also stepped up and trained Stan to use it. Because of his efforts, we quickly got our raw materials into the app." 
More Than a Job
Bachman-Turner Overdrive (BTO) once exclaimed, "I've been takin' care of business – it's all mine. Takin' care of business and working overtime." 
Clark, to his credit, lives up to the song while also pulling off a flawless Clark Kent impression. 
"He can be counted on to help where he's needed without hesitation or complaint," Reed remarked. "Clark works hand-in-hand with his co-workers, ensuring [work] gets done. When any task needs to be completed, he's the first one to jump in, no matter what it is. When we're short-staffed in the warehouse, he'll pick T/T orders and help where needed – all while completing his daily tasks." 
One of those many tasks is training new hires in all things warehouse. That means taking on the responsibility of getting team members up to speed, correcting issues, and providing mentorship, all autonomously and at a high level. 
And if that's not enough, Clark somehow finds the energy to volunteer for overtime in the warehouse and on the respool line.
Celebrating All Our Nominees
Clark is May's Employee of the Month, but he wasn't the only nominee. Two other Kris-Tech team members earned nods this month, including: 
Griffon Tubbs
Nick Beckwith 
There you have it! Five winners have been named, but we still have 7 months to go! Join us in a few weeks to see who joins Clark, Gino, John, Will, and Jon as contenders for Kris-Tech Employee of the Year.