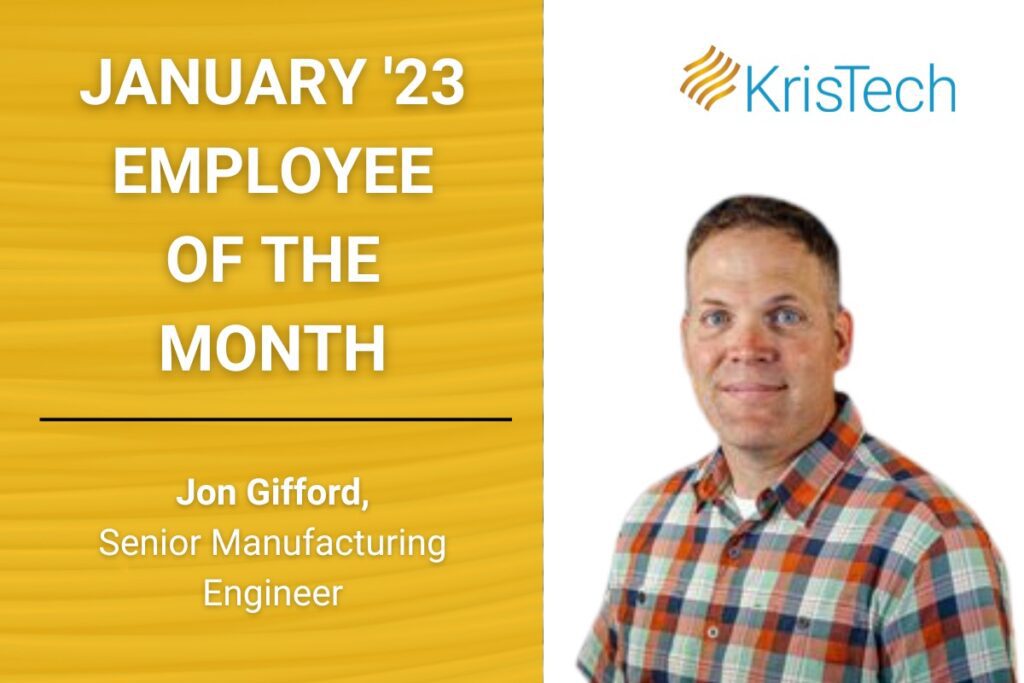 If you looked up Jon Gifford's name in the dictionary, you'd likely find his picture next to some pretty flattering words. 
Accessible. Patient. Committed. Leader. 
It's hard to pinpoint a single thing Jon doesn't do well. Like a five-tool baseball player, Jon is the kind of person who can excel no matter where you put him. For a growing team like Kris-Tech, that type of knowledge, especially under pressure, is what makes him not just a leader on the engineering side but a true mentor for those around him. 
"Jon is constantly working with the production team, soliciting their input and making our processes robust and error-free," said Jeff Handley, who nominated Jon for the title. "In his short tenure, Jon identified that our draw dies needed repairs, then he took the initiative to send them out to be refurbished or replaced. When those dies are returned and put back into production, we'll see a nice reduction in copper wire consumption while drawing, which will help drive our bottom-line growth."
Work Until the Job Is Done
Jon's eagle eye isn't the only reason he earned Employee of the Month honors. In fact, one need not look much further than his positive attitude to see how he can be a game-changer for any team he's on. 
Taking on several machine installation projects, Jon has been able to learn quickly, think on his feet, and understand what needs to happen to get his machines online. Despite obstacles in getting the machines operational, Jon's never-say-never attitude has helped the team make steady progress. 
"Jon has handled this project with a 'Let's Do Whatever It Takes to Get It Done' attitude," Handley explained. "This includes reaching out to other departments and implementing changes based on everyone's feedback. Without his commitment, we'd be struggling with this project and would not be able to produce the product we are today."
Committed to the Kris-Tech Way
Being a great Kris-Tech employee is about more than simply showing up. It's about making work better for those around you, too. 
Jon is a familiar face out on the production floor, as he spends time getting to know the operators, asking questions, and always offering his help when needed. His efforts haven't gone unnoticed, either, as he's often getting shoutouts from others for his work. 
And, today, all his hard work has culminated in this month's Employee of the Month award.
Congratulations, Jon! You've earned it. Keep living the Kris-Tech Way!

Celebrating All Our Runner ups
Jon may have been this month's winner, but there were a handful of talented people whose names were mentioned alongside his, including:
Kelsey Corrigan
Aaron West
Kelly DeRochie
Justin Blakeslee
Steve Ferrell
Laura Lake
Stay tuned to see who takes home February's Employee of the Month award and joins Jon as a contender for Kris-Tech's Employee of the Year!