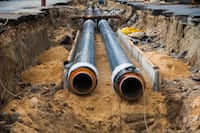 Copper clad steel tracer wire has a variety of industry applications ranging from grounding wire to use in power installations. The strength of its steel core combined with it conductive copper clad coating make this product well suited for a variety of industry uses. Its high tensile strength enables it to be used as an alternative for horizontal directional drilling wire.
The copper surrounding the steel makes this wire type more conductive than pure steel or aluminum (although it is also more expensive than a pure steel wire of a similar gauge).
Some common applications of copper clad steel wire are:

Gas utility markets
Buried gas lines
Buried conduits
Buried ground systems
Gas utility is at the top of our list because it saves lives by helping utility workers locate natural gas pipes.
Want to learn more about our copper clad steel wire products? Visit the product page for more info.
Want more copper content?
Subscribe to the Kris-Tech Blog