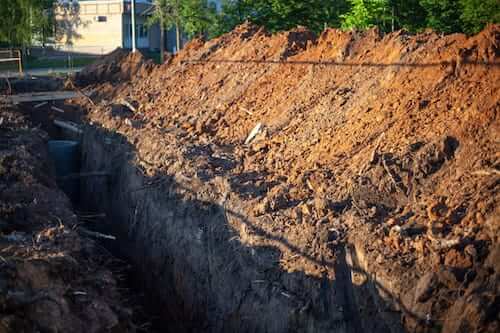 Direct burial cable refers to cable that is rated and approved for use in underground trench construction according to the National Electrical Code (NEC). Local codes usually require that the wire be buried at least 18 inches down. Direct burial cable is cable that can be laid directly into the soil without a surrounding conduit. 
The wire's jacketed insulation provides adequate protection from moisture, soil, and natural elements so that it can be buried directly into the ground. The insulation is rated for use in a wet or dry environment.  
A range of wire types are used in direct burial applications including tray cables, aluminum cables, industrial cables, and copper wires.  

For copper wire, the industries that commonly employ direct burial cables are:
Gas and utilities construction
Department of transportation (DOT) projects 
Since all of these industries require wire that is useable in an outdoor environment and buried underground, they must use insulated copper wire that is direct burial rated which include the following:  
Copper tracer wire is direct burial approved and commonly used in gas and utilities construction. 
 
Similarly, copper clad steel tracer wire is direct burial approved and used for electrical construction in the utilities industry. 
 
RHW-2/USE-2 is used in underground electrical service entry applications such as construction & DOT projects. 
 
UF wire (underground feeder) is used in irrigation systems, such as on golf courses.  
These products are ideal for industries that require copper wire to be placed directly in the soil as a power supply. 
To learn more, check out our article on direct burial wire.