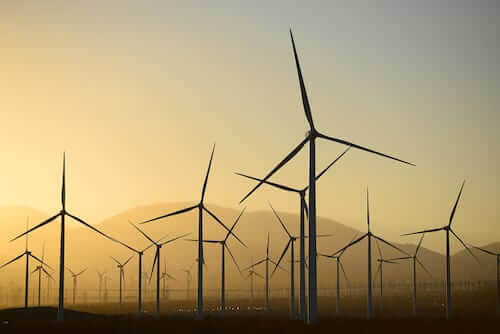 There has been a surge in wind farm construction over last decade. Federal subsidies dating back to the Obama administration for wind power energy, along with tax credits for solar farms, have proved to be a boon for electricians and electrical contractors working on clean energy projects.
Electrical contractors employ an array of cables on windfarms including, aluminum conductors, fiber optic cables, signal cables, control cables, low voltage and high voltage cables, to name a few.
Given the scale of wind farm projects, every dollar saved can amount to huge savings by the end of the project. Copper clad steel wire is a good, scalable wire solution on a wind farm project, for both on land and offshore applications.
 The Advantages of Copper Clad Steel Wire 
Not only is copper clad steel (CCS) wire ideal given its use as a grounding wire, but it is both strong (the steel possesses high tensile strength) and the cladding of the copper makes it hyper-conductive.
The fluctuations in the copper commodities market causes major headaches for project estimators and project managers in electric construction firms. For controlling costs, CCS wire is a great option since it has the reliability and conductivity of copper wire. It is also cost-effective and a good alternative to copper-based grounding systems.
When working on a wind farm project, electricians and electrical contractors need a copper wire suitable for buried, underground applications. Copper clad steel tracer wire achieves this at a less expensive price point than some other copper wire products.
Copper clad steel is well suited for offshore wind farms where the environment demands rugged, corrosion-resistant wire. For additional protection, it can be insulated with an HMWPE jacket. The corrosion resistant properties of copper along with the abrasion-resistant properties of HMWPE make this product suitable for direct burial use in wet and dry locations.
Though solid copper wire offers higher conductivity for wind farm grounding applications, it is not necessarily the most cost-effective for electrical contractors.
In sum, for electrical construction on wind farms, copper clad steel provides good conductivity and durability at a good price point.
In addition to uninsulated copper clad steel, Kris-Tech manufactures insulated, high molecular weight polyethylene (HMWPE) CCS tracer wire, which is suitable for direct burial use in wet and dry locations.

Visit the spec sheet for more info.
Want more copper content?
Subscribe to the Kris-Tech Blog