Scope:
Loop detector conductor for use as inductance loop
detector wire.
Applicable Standards and Tests:
ASTM B-3, B-8 Class B or C, B-174, D-2220, D-1248 for Type III Class C, D-2655-80, NEMA/ICEA WC-5, IMSA 51- 3, UL 44, and UL 1581. All products are spark tested at 7500 VAC unless otherwise specified.
Construction:
Conductors: The single conductors are stranded, annealed copper.
Insulation: Concentrically applied, black XLPE (cross linked polyethylene) insulation. Rated at 90oC, 600V.
Identification and Packaging:
The wire shall be identified by surface marking indicating the manufacturer, IMSA number, AWG size, year of manufacture and voltage rating. Long length bulk reels are standard. Custom lengths are available by request.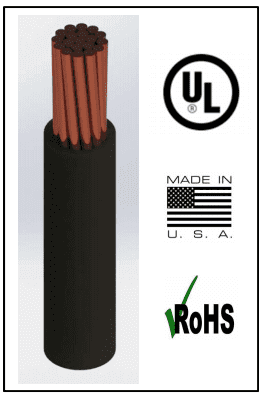 | AWG | Standard Number of Strands | Nominal Conductor Wall Thickness (in.) | Overall Conductor Diameter (in.) | Conductor Weight (Lbs. /000) | Nominal Jacket Wall Thickness (in.) | Nominal Overall Jacket Diameter (in.) | Weight (Lbs. /000) |
| --- | --- | --- | --- | --- | --- | --- | --- |
| 14 | 19 | 0.030 | 0.132 | 20 | 0.030 | 0.250 | 30 |
| 12 | 19 | 0.030 | 0.152 | 27 | 0.030 | 0.250 | 38 |