Check out our tracer wire color guide infographic!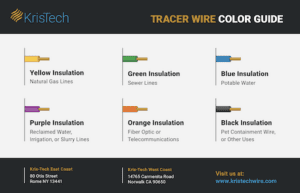 Tracer wire, which is also called locating wire or locator wire,  is used to assist in locating pipes and other lines after they've been buried in the ground.
Once a pipe is laid down, tracer wire is placed along it's length and buried next to the pipe.  This wire is what's actually searched for if the pipe itself needs to be located (hence the name).  A Wire Tracer – an above-ground device with the ability to locate non-energized wire – is used so there's no need to send electricity through a tracer wire in order for it to be detected.
After the wire is found, crews can start a much more accurate dig to reach the pipeline for maintenance, repairs or replacement, and site destruction is greatly reduced.
Used most commonly in the utilities industries (water, gas, sewer, fiber optics, etc), tracer wire can also be used in directional drilling applications, as well as irrigation systems and golf course sprinkler systems (Little Known Fact: Kris Tech Wire got it's start by selling tracer wire to the golf course developers!).
Different color jackets correspond with different applications. For more information, have a look at our infographic and color code guide that provide an overview on the applications of green, blue, red, orange, purple, black, and yellow tracer wire.
You may be interested in more information on how tracer wire is installed or what types of tracer wire are the best to use in certain situations.