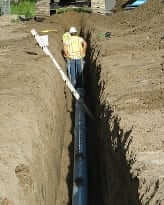 Are you looking for Direct Burial Wire? Take a look at our Tracer Wire or USE-2 for more information.
Direct Burial rated wire is approved to be run in the earth in accordance with the National Electric Code (NEC), usually without the use of conduit to surround it. The combination of the insulation material and its thickness keeps out moisture and other harsh factors to protect the wires inside.
As long as it's got the right insulation, it'll be just fine in the ground by itself.
The most commonly referred to types of Direct Burial wire are USE (Underground Service Entrance) – with a thermoset insulation – Tracer Wire and UF, or "Underground Feeder" – both with thermoplastic insulations.  (Note: you might remember some of these terms from our post on wire abbreviations and wire insulation types).
Examples of use for Direct Burial wire use are running electricity to your home (USE-2),  connecting post lights, locating buried pipes with tracer wire, laying the sprinklers along golf courses (next time you're playing a game, remember there are sometimes 1,000,000' of wire running underneath you!), and, if you get fancy in the back yard, hooking up your propane grill to a propane tank in the garage!
Usually, Direct Burial wire should be buried at least 18′ underground, but check with the local enforcement officer (usually the electrical inspector) before laying anything down. Oh, and as always, make sure the power is shut off to anything electrical before working with electrical equipment , devices, or wiring!
If you need Direct Burial wire, you can call us or send in a quote on the form to the right!