When choosing the right tracer wire insulation for your underground utilities, decisions should be made based on soil conditions, installation methods, and applications.
Before starting the project, ask yourself what type of application is it?
Open cut or open ditch?
Directional drilling or plowing?
Pipe bursting
Not all applications are treated equally or need the same insulation. Cost and flexibility are important.
HDPE (High-Density Polyethylene) is more rigid, strong, and slippery. It's also chemical resistant and made for direct burial. HDPE is best suited for directional drilling, plowing, and pipe bursting. The insulation has less drag yet maintains high strength for these applications.
LLDPE (Linear Low-Density Polyethylene) is softer and more flexible than HDPE. It has a lower melting point (125° C) than HDPE and is more transparent. It is chemical resistant, direct burial rated, and easier to handle and work with manually, making for happier installers. This insulation is preferred for open cut/open ditch applications.
For projects where LLDPE is an acceptable choice, customers can expect to see a small cost savings. How much money they save is dependent on several requirements, including the amount needed for the job.
HMWPE (High Molecular Weight Polyethylene) Family Facts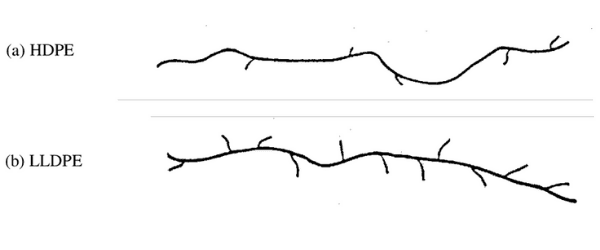 Although HDPE and LLDPE have similar structures, there are several differences that distinguish the two polyolefin hydrocarbons from each other.
HDPE is high-density polyethylene, whereas LLDPE is linear low-density polyethylene.
As the name suggests, HDPE has a higher density compared to LLDPE.
LLDPE is more flexible than HDPE.
HDPE is a little tougher than LLDPE.
HDPE's melting point is 133°C. It can withstand higher temperatures than LLDPE.
Conclusion
HDPE and LLDPE are polyolefin hydrocarbons with a high molecular weight, and the only ones we use for insulation. LLDPE is tough, chemical resistant, very flexible, has a melting point of 125°C, and has very good low temperature properties. HDPE is tougher, chemical resistant, less flexible, has a higher melting temperature, and also performs very well at low temperature.
Due to oxidation, both can be susceptible to stress cracking when exposed to UV radiation. A UV protective additive can be added upon request.
Want more copper content?
Subscribe to the Kris-Tech Blog