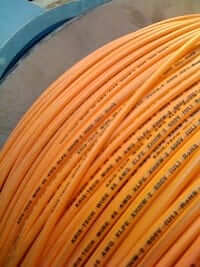 Have you ever wondered why XHHW wire is used in your electrical contracting work as opposed to, say, THHN? Isn't THHN cheaper? Well, yes, it is, but there are several performance advantages to consider when using XHHW that outweigh the cost savings you'd realize from pulling in THHN.
Here are a few of them:
XHHW-2 is rated up to 90° C in both wet and dry environments. THHN is rated up to 90° C in dry environments only. Dual-rated THHN/THWN carries a 75° C wet-environment rating. The 0.004" nylon jacket on the THHN is hydroscopic (that is, it absorbs moisture), which prohibits its use in wet locations at any temperature.
XHHW-2 is insulated with cross-linked polyethylene (XLPE), which provides a di-electric constant (k) value usually ranging from 2.2 to 3.0 megohms @ 20° C. This is approximately half the value of the PVC/Nylon combination in the THHN product. This results in reduced leakage, which provides superior insulation performance.
As a thermosetting material, XLP(E) has higher stability in varying temperature environments. It resists flow at higher temperatures and cracking at lower temperatures better than comparable thermoplastic materials such as the PVC (Polyvinylchloride), which is used in THHN.
XHHW wire is recommended by the electrical distribution industry for commercial, industrial, and institutional building applications. The National Electrical Code (NEC) Article 310 describes the specific applications and installation for this product.
So, make sure that you have both the right product and the best product for the job. Check the job site conditions and the NEC requirements for them. Insure your job is "First Class" – it will make life easier for you and the customer down the road!
Think you need XHHW? Check out our Building Wire page for Kris-Tech's product offerings. We have XHHW-2 in 10 (ten) colors depending on your needs, and in both solid and stranded constructions.
Need XLPE control or switchboard wiring? Tinned high-flex stranding is available in both SIS and XHHW-2 products.
You can also fill out a quote request using the form on the right, or contact us directly for a copy of our specification sheet or more information
More discussion on Direct Burial/Tracer Wire and why it's used
We got a comment on one of our blog posts about Direct Burial Wire, and I thought it would be a good opportunity to highlight our response in the form of a blog post. The original comment/question was:
"Why do you need to install this Tracer Wire? Do we need to install Tracer Wire for metal pipes? Metal pipe is a conductor already. I understand using this for plastic pipes, but metal pipes? How is this tracer wire installed on buried pipes?"
The response from Dave, our President, is the following:
"[We use tracer wire] To locate buried conduits used in one of many applications such as electrical, water, sewer, fiber, and other (that didn't occur to us)."
Remember the days of calling the guy with a backhoe, two helpers, a pick and a shovel, and starting your work with "I think that it is over here somewhere…" This usually resulted in a big, unnecessary trench, and probably some damage to either the conduit or the surrounding area. Thankfully, those days are gone.
Modern locating systems use signals, as opposed to voltage, to locate buried metallic and non-metallic conduit. The system typically consists of a signal transmitter connected to the exposed end of the tracer/locator wire (usually in a switchgear room or an exterior riser), which functions as an antenna. In electrical applications this eliminates the need for a contractor to employ an expensive crew to de-energize the electrical system to hook on to the buried lines. Once the electrical hazard is eliminated, an internal or location-for-hire service can be utilized with no risk.
When deciding whether the cost of the locator wire provides an acceptable return, there are some basic considerations, such as:
What is the cost of a service outage? Is it reduced through quicker locating?
What are the costs of my locating crew – backhoe? Crew? Trucks?
Should the locator wire be expected to have the same lifecycle as the conduit? (Stay away from nylon-coated THHN – you don't bury nylon pipe for a reason!)
Can we improve response time with a locating service? Locating is what they do; they may have recommendations!
How are these locator systems installed? Depending on your circumstances, the locator wire may be laid in a trench above the conduit, pulled in with a trenches machine, or installed via directional drilling. Only the end user is aware of the job site and system conditions that determine the method. Different types and sizes of wire apply to each specific method of installation.
Direct burial-rated tracer/locator wire provides a reliable, low cost, low risk insurance policy on a utilities plan for its infrastructure life cycle. "
How "low cost?" Depending on copper costs and conductor size, the typical copper locator/tracer wire may cost between 10 to 20 cents per foot. So this is one insurance policy that's worth picking up.
Think you need Tracer Wire? Check out our Utilities & Municipalities page for Kris-Tech's product offerings, You can also fill out a quote request online, or contact us directly for a copy of our specification sheet or more information.
Want more copper content?
Subscribe to the Kris-Tech Blog