Open cut excavation, also known as trenching or plowing, is a low-cost method of installing pipelines and other underground utilities. Depending on the conditions and breaking strength needed, Kris-Tech has several open cut tracer wire options available in solid or stranded copper, copper clad steel (CCS), and stainless steel.
Kris-Tech offers different types of insulation for its tracer wire products, including high-molecular-weight polyethylene (HMWPE), high-density polyethylene (HDPE), and polyvinyl chloride (PVC). HWMPE offers excellent abrasion, crush, chemical, and moisture resistance in underground applications. HDPE is tough, chemical resistant, somewhat flexible, and performs well at low and high temperatures.
Before ordering tracer wire, be sure to know what type of break load strength and flexibility you need for the application. High strength tracer wire has the highest break load strength, while dead soft annealed is the most flexible.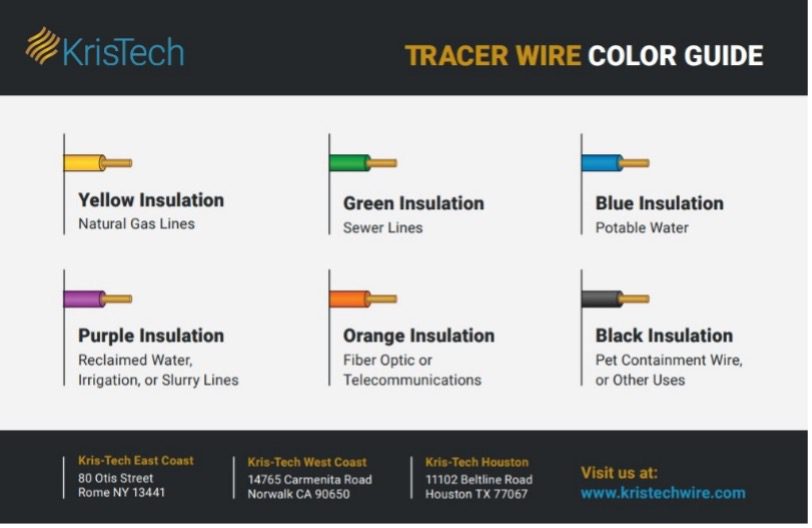 Available Insulated Copper Products
Sizes #18 through #4 AWG solid or stranded
Available wire types: HMWPE, HDPE, and UF
Hard-drawn or soft-drawn copper available
Custom printing legends if required by customer
Available DSA/SR/ High Strength CCS Products
Sizes #18 through #8 AWG solid conductors
DSA Load Break Strength: 161 pounds
Available in all colors, as standardized by the American Public Works Association (APWA) Uniform Color Code for Underground Utility Lines
Available custom printing legends
Custom packaging and knock-out cartons available
Available Stainless Steel Products
Sizes #10 through #6 AWG stranded conductors
Custom print legends available
Available in 30v, 600v, and 1kv