Services & Customization
A lot of times, customers find they need a little added oomph to their product orders. And it's important to us that they get that. To that end, we offer the following options for those of you that may require more than "just the standard stock."
Wire Paralleling and Cabling
Paralleling provides multiple wire runs on a single reel, which provides for more cost- and time- efficient payoff. We also provide wire cabling, which twists the individual insulated conductors together, forming a single unjacketed unit.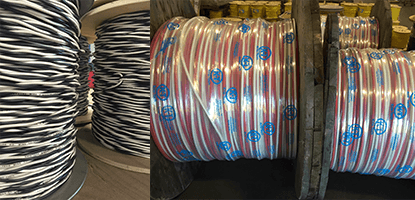 Colors
We offer and inventory 12 insulation color options to choose from for most products.
Wire Dyeing
This permanently changes the color of single conductor, PVC-insulated wire types. Dyeing provides you with additional color flexibility if we do not stock that color, or if you have a specific need for something unique.
Wire Striping
We offer both parallel and cylindrical/twist striping for ALL single conductor insulated wire. This aids in identification when cables are being used in tray or conduit.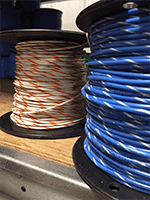 Custom Print Legend
Print legends identify the wire type, size, and manufacturer. Our material is stocked with standard print legends, but we offer custom print on all of our material. The legend can: identify your city or municipality ("City of Rome Water Department") to avoid theft, warn people about the wire's proximity (e.g. "Warning, Gas Line Below), or have your name on it as a private label.
Lengths
Standard 500′, 1000′, 2500′, etc. put-ups generally work, but when you need a custom length, we have you covered. We'll cut and ship whatever you need; just ask.
Packaging
We'd like to make our products as easy as possible for you to use. We've got several different packaging options available to do just that. Lastly, we'll do whatever you'd like regarding product labeling or shipment identification markers.
Labelling
If you'd like your wire or its packaging to have specific mark or identification labels, let us know. This includes custom identifiers, bar coding, and/or QR coding.