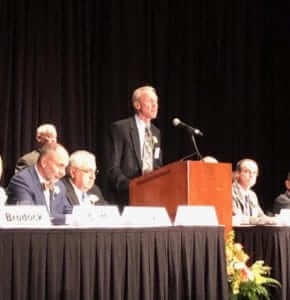 On April 27, our former CEO Jon Brodock received the Distinguished Career Award from the Wire and Cable Manufacturers Alliance (WCMA).
Jon's father and uncle co-founded Kris-Tech Wire in 1984. Before joining the copper wire and cable business, Jon was in the tire industry. Wisely (at least in our opinion), Jon decided to make a career pivot and transformed Kris-Tech Wire from a small regional copper wire manufacturing business into a diversified, growing and prosperous manufacturer.   
Other honorees of the night were Barbara Cioffi (Cable Components Group), Eric Fisk (Fisk Alloy Wire), Gary Gagnon (RSCC Wire and Cable), David Hawker (Nexans), Dan Kennefick (Daikin USA), Rober Srubas (Amphenol Times Microwave) and Louis Weisberg (Service Wire). 
Congratulations to Jon and the other honorees of the night!