Scope:
Single conductor cathodic protection cable is used for direct earth burial DC feeder cable for cathodic protection systems, storage tanks, pipelines, wells, ocean vessels, and metallic structures buried or water submerged.
Applicable Standards and Tests:
ASTM B-1, B-3, B-8, B-33, B-172, and B-173, ASTM D-1248, NEMA WC-5, ICEA S-61-402, and UL 83, UL 1581 and UL 2556. All wire will be spark tested at 7500 VAC unless otherwise specified.
Construction:
Conductors: The single conductors are solid or stranded annealed or hard uncoated copper.
Insulation: Black, sunlight resistant polyethylene is concentrically insulated, Type I, Class C, Cat 4, and Grades E4-E5. Types II, III, and IV (MDPE & HDPE,) and Classes A, B and D are available on request. Rated at 75°C, 600 volts.
Identification and Packaging:
The wire shall be identified by surface marking indicating the manufacturer and AWG size. UL listed products will be identified and surface printed in accordance with the UL requirements. Long length bulk reels are standard. Custom lengths, colors, stranding and packaging are available by request.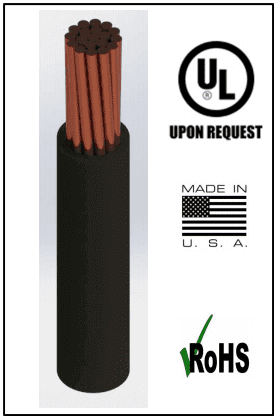 | AWG | Standard Number of Strands | Bending Radius (inches) | Insulation Thickness (inches) | Nominal Overall Diameter (inches) | Approx. Shipping Weight (Lbs./Mft.) | Nominal DC Resistance OHM/1000 ft. @ 20°C |
| --- | --- | --- | --- | --- | --- | --- |
| 14 | 7 | 1.16 | .110 | .29 | 38 | 2.624 |
| 12 | 7 | 1.24 | .110 | .31 | 48 | 1.650 |
| 10 | 7 | 1.36 | .110 | .34 | 62 | 1.038 |
| 8 | 7 | 1.48 | .110 | .37 | 87 | 0.653 |
| 6 | 7 | 1.60 | .110 | .40 | 122 | 0.411 |
| 4 | 7 | 1.80 | .110 | .45 | 175 | 0.258 |
| 2 | 7 | 2.04 | .110 | .51 | 260 | 0.162 |
| 1 | 19 | 2.32 | .125 | .58 | 330 | 0.129 |
| 1/0 | 19 | 2.48 | .125 | .62 | 405 | 0.102 |
| 2/0 | 19 | 2.68 | .125 | .67 | 511 | 0.081 |
| 3/0 | 19 | 2.89 | .125 | .72 | 628 | 0.064 |
| 4/0 | 19 | 3.12 | .125 | .78 | 771 | 0.051 |