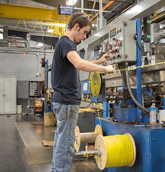 Kris-Tech is always looking for competitive, customer-focused, and hardworking people to join our Team. If you're interested in being involved with a dynamic, challenging, and growth-oriented company, please tell us you're interested below, or submit a resume, and we'll be in touch. You can also stop in and fill out an application in person.
What are you capable of?
---
Interested in joining our fast growing and dynamic production team? Click here to complete an application.